Vientiane Garden offers fully furnished and equipped apartments for short and long term rental. All apartments are brand new and of high standard. Wireless internet is offered free of charge and our rates include maid service.
One bedroom apartments
Our one bedroom apartments are suitable for both singles or a couple. They feature a stylish bedroom with a king size bed and high quality mattress, in addition to a private balcony offering magnificent views of the natural surroundings. The living room features a flat screen tv with both local and international channels and a well equipped kitchenette. The bathrooms are of a modern western standard with carefully selected design.
Rates for One Bedroom Apartments
Daily
$50
Weekly
$200
Monthly
$590
The above rates includes all our services except electricity and personal laundry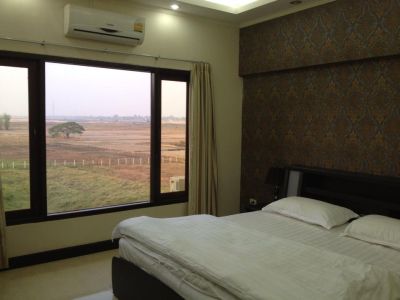 Two bedroom apartments
Our spacious two bedroom apartments are suitable both for a small family as well as for residents wanting a spare bedroom and some extra space. In addition to two comfortable bedrooms, these apartments features a large living room with a flat screen cable tv and a dining area. The rooms hold high standard with a well equiped kitchenette, one or two private balconies and a fashionable bathroom of modern western standard.
Rates for Two Bedroom Apartments
Daily
$75
Weekly
$300
Monthly
$890
The above rates includes all our services except electricity and personal laundry